A Boutique Residence, Restaurant and Cabaret show bar in Jomtien, Pattaya.
It is ideally situated for the beach as well as wining & dining to suit all tastes.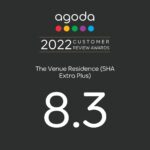 Providing Hospitality the Correct Way!
Room Service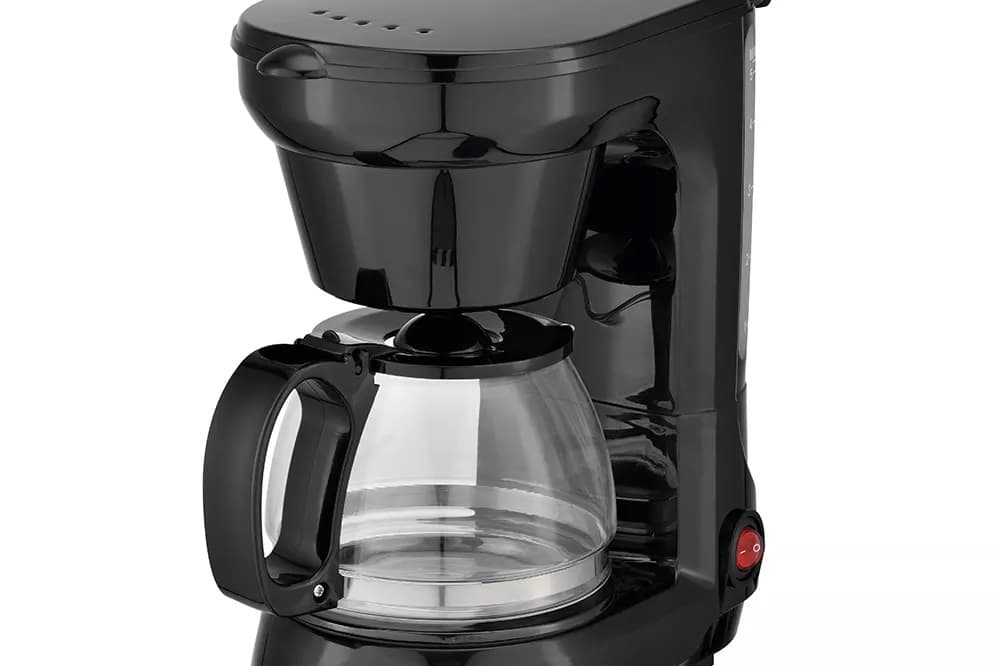 Coffee Maker in all rooms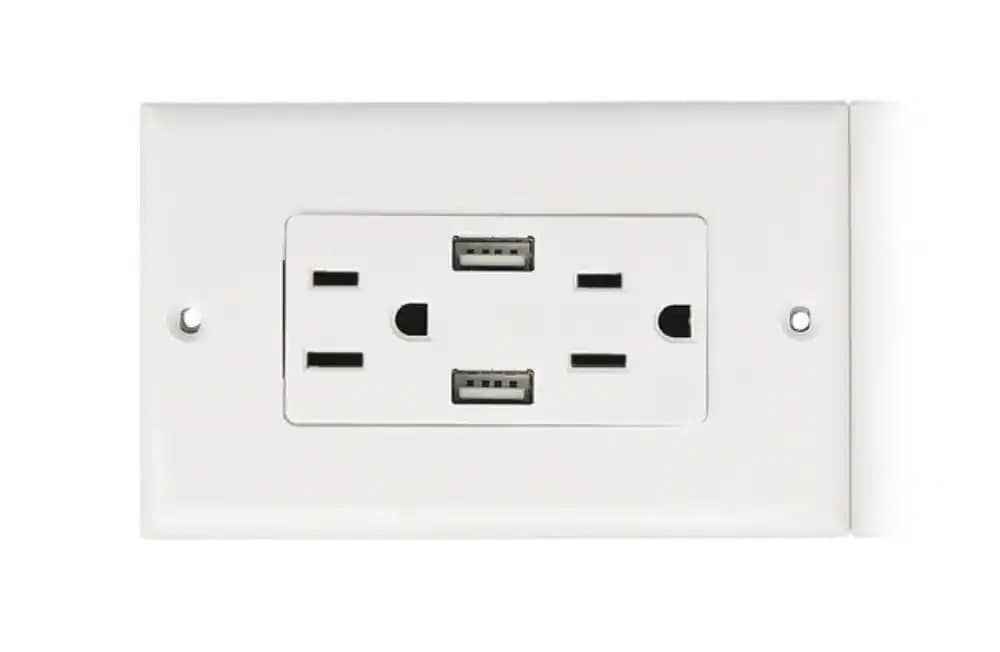 USB Power points in Executive Suitess
Smart TVs In Most Rooms
24x7 Reception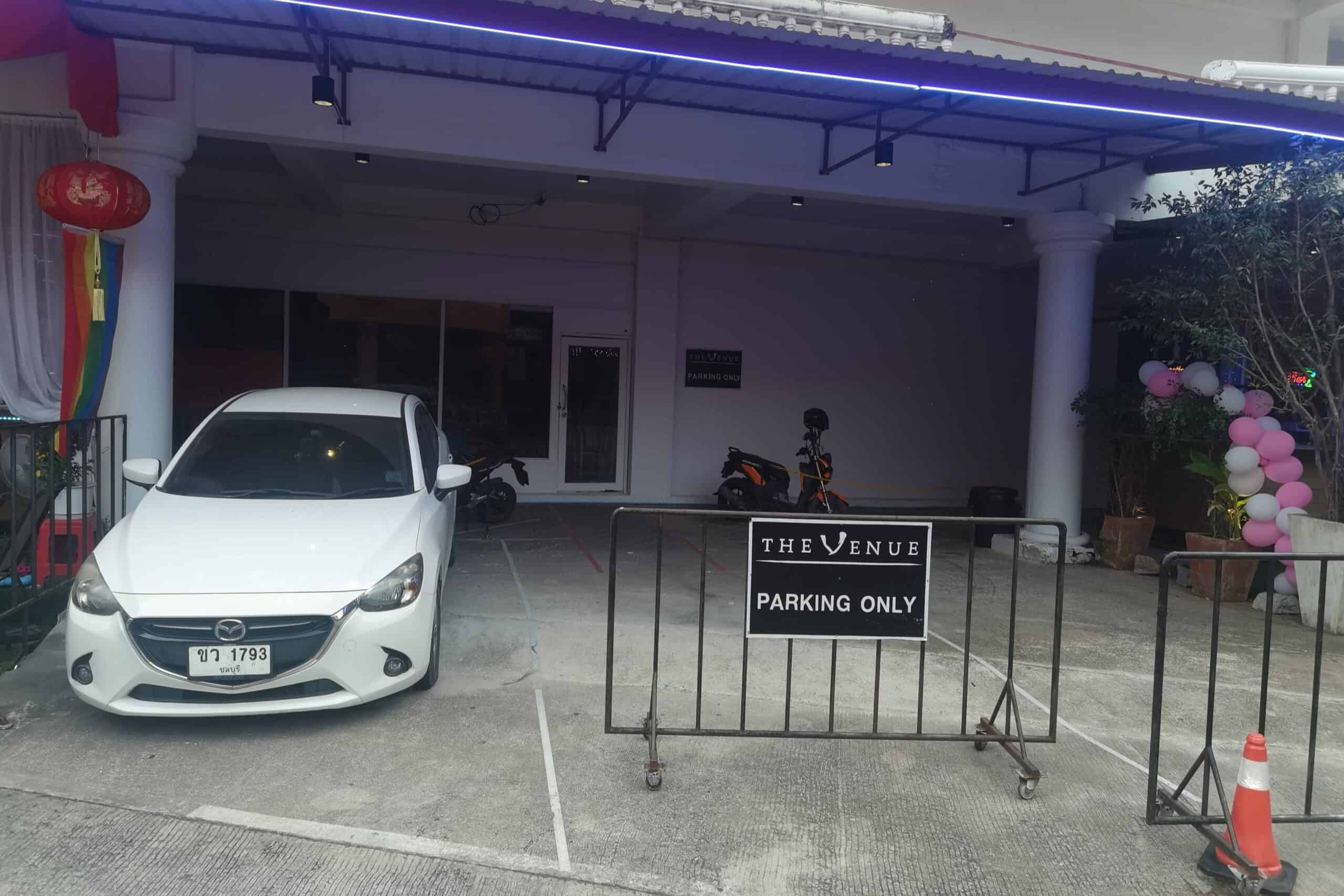 Car Parking
Microwave in Executive Suites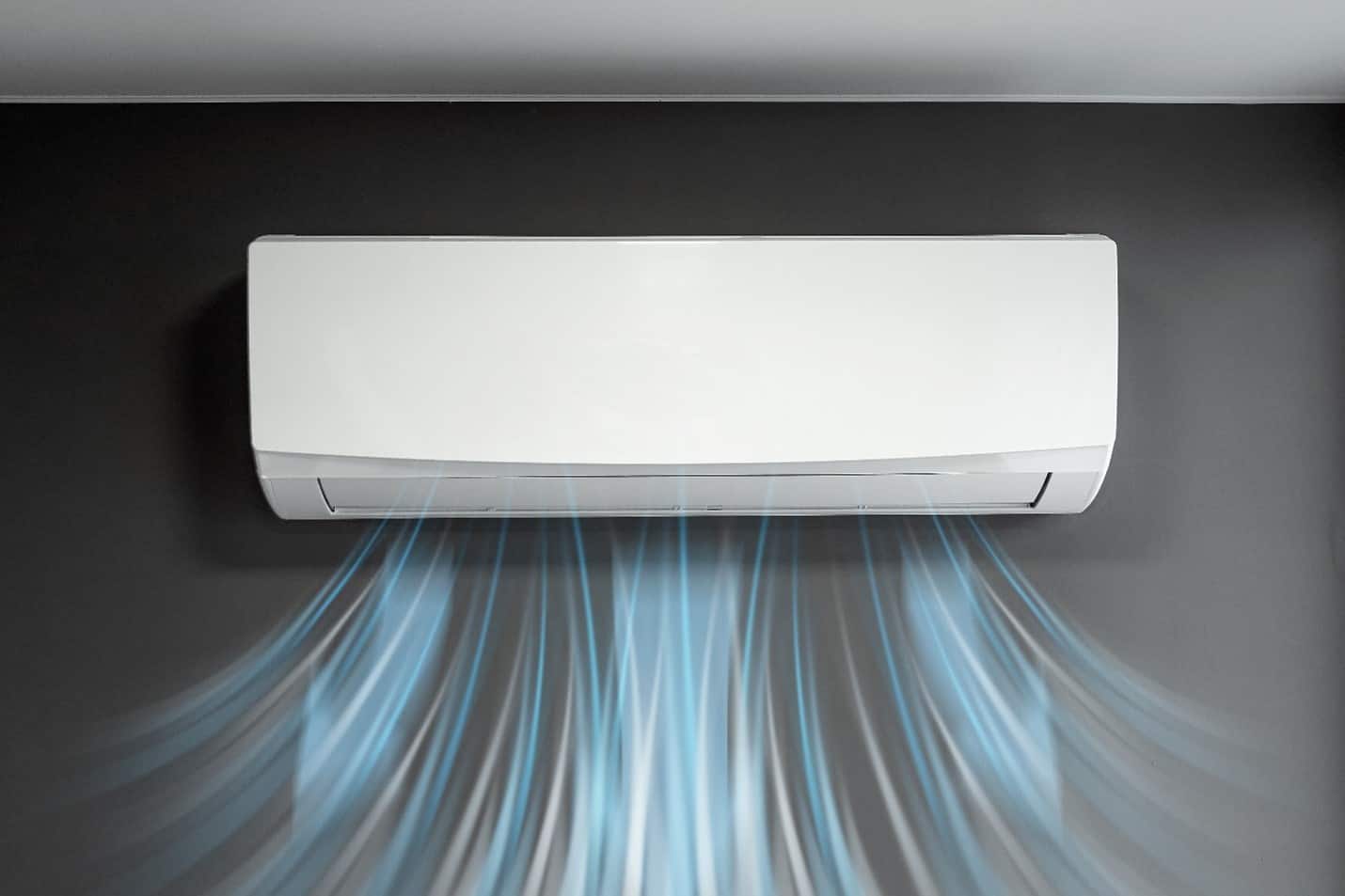 Fully Air Conditioned
Free Wi-Fi
Escape for a Luxury Break in Jomtien Beach Thailand
Only a 10 minute walk from the South Pattaya Bus Station with direct buses to and from Suvarnabhumi Airport.  
Right on the end of the Supertown Complex. In the immediate area there is a wide range of friendly Straight and Gay bars and numerous restaurants.
10 Minute walk to the beach & Direct Baht bus to near Walking Street Pattaya goes every few minutes.
Airport Pick ups possible just ask
All Rooms Have free Wifi, cable TV, DVD Players, Safe, Air conditioning ,Tea & Coffee making facilities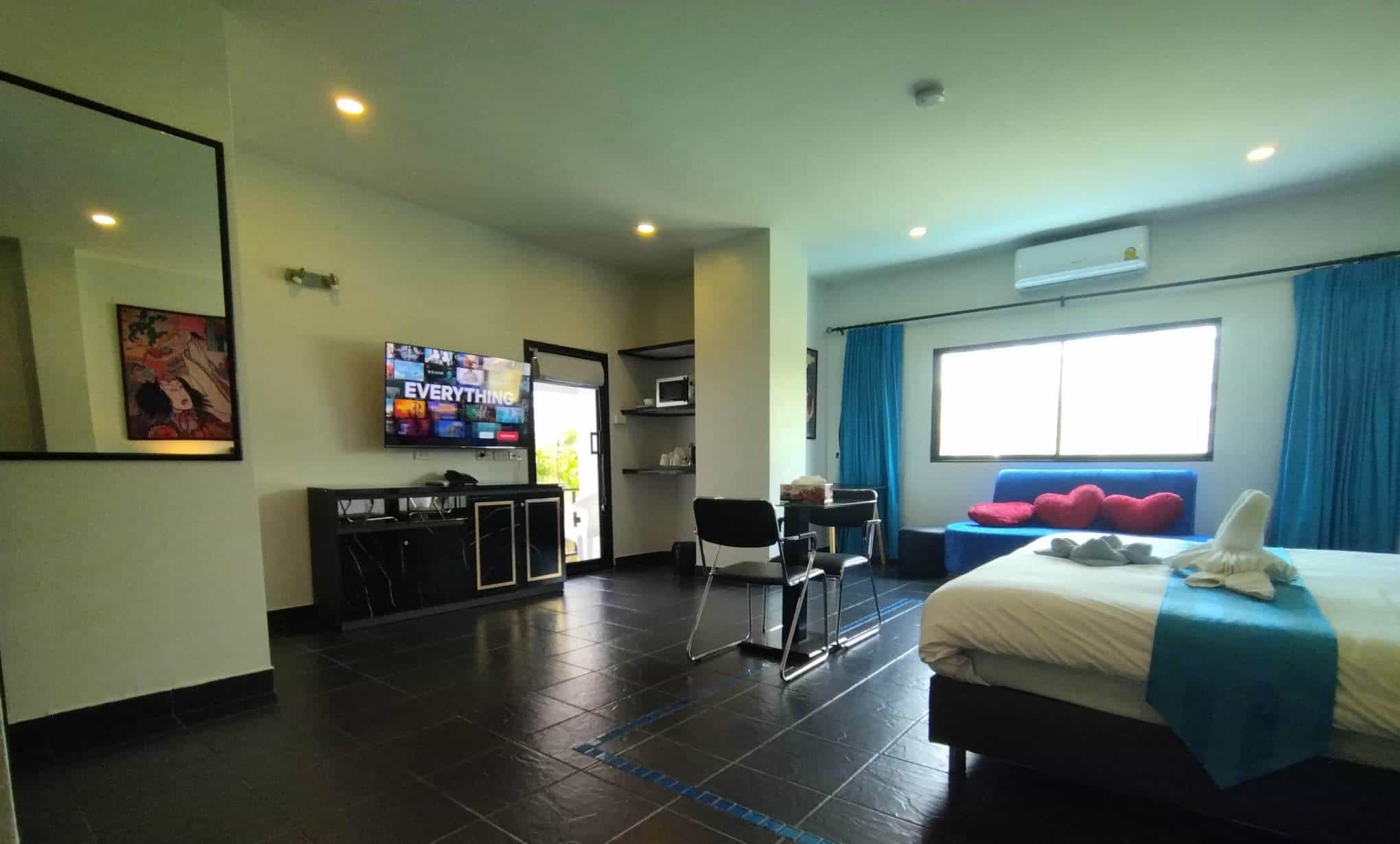 These are our largest rooms 38 Sqm²  All suites feature:
a King size bed, Large Digital Smart TV, a balcony & Minibar, They are tastefully furnished and decorated with spacious en-suite showers and a seating area.
These 33 Sqm² rooms have a single or double seating sofa, a modern fourposter king size bed and a large Smart TV. The rooms are tastefully furnished and decorated with spacious en-suite showers and a seating area for WI-FI and your morning beverage
Our 24 sm² superior rooms feature: a Queen size bed, Large Digital TV (not like picture), Safe. They are tastefully furnished and decorated with a spacious en-suite  Japanese style showers, a seating area for WI-FI and your morning beverage.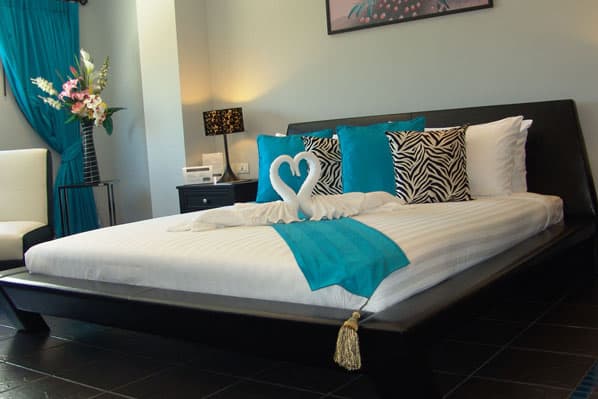 Our Deluxe rooms consist of a large queen size bed and a large modern TV. They are tastefully furnished and decorated with a spacious en-suite Japanese style showers, a seating area for WI-FI and your morning beverage.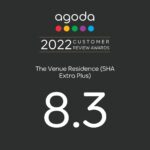 EXCELLENT

92 reviews

on
Stay and visit I stayed in this hotel for 3 weeks during my visit in Pattaya. In the previous years i used to visit the cabaret for looking the show. This was the first time that I slept there.The hotel is situated in Jomtien Complex too close of the bars ,restaurants and cabarets and just 5 minutes walk from Jomtien beach.My room was very comfortable with a big bed and everything that someone can need (fridge, safe box, ect). Every day my room was cleaned very carefully from very polite and smiling cleaners. In the balcony of the hotel I could have breakfast, lunch and dinner. Very good and well cooked dishes in reasonable prices and served by polite, friendly and smiling waiters. In the pool bar I had my ice coffee, juices coctailscand alcoholic drinks prepared and served by one of the best bar tenders Jame.The show in the cabaret was every night impressive and every night different. Excellent dancers, I can distinguish between them Kan, Aof, Toey, Joseph. Special thanks to the new owner Mr. Andy, to David , Chris, Didi and Jame. All ofv them made me feel like if i was in my home with my friends. Ic shall come again and again, Thankscagain and conratulations

Brilliant Stayed 23 nights at The Venue, if there was an option for a sixth star i would give it, room spacious and spotlessly cleaned daily, great air conditioning in room, beach towels provided daily, excellent management both english and thai, cabaret show nightly with very reasonable drink prices, i chose to eat in the restaurant and was not disappointed with the food quality or prices. A special thanks to Chris, james 1&2 and also to Em who made my stay fun and friendly throughout my trip.I wouldn't stay anywhere else in pattaya, only in The Venue

Lovely hotel with great service We stayed here as part of the test and go requirement which was performed very professionally. Was greated at the airport with a private taxi, taken to the hospital and after the PCR test we were taken to the hotel. The hotel room was very big and airy and the bed was extremely comfy. Room service was fantastic and their was a good food selection to choose from. Would recommend this hotel to anyone....

Excellent. I visited the cabaret almost 15 nights during my stay in Pattasya. The show was fabulous every night,the drinks were excellent and the price reasonable., Very polite and friendly waiters and staff. Almost all the dancers were excellent,especially Mookan, Aof asnd Toey. I visited also the rooms of the residence and i can say that next year ic shall stay in Venue.

good resort great show Hotel was much better than expected. clean and nice location is very convenient. good price. the show this year is really great, very professional and nice music. u hear nothing in your room of the music or street.

Convenient, inexpensive, with a showtime. The hotel was just a few blocks from the beach. It was on an enclosed street with numerous restaurants and bars. The hotel, and I rented only a small room, was attractive, and one enters the room and towels are fashioned into swans, it is attractive. Black and dark blue were the dominant colors, but in the day there was a large window with a scenic view toward the beach. There was a table and chairs, and a larger chair to relax. The bed was large. Despite the black color of the bathroom, the bright lights made all visible. Shower, hot water, western toilet. There was an elevator, but a small. attractive spiral staircase. The best perk of the hotel was the cabaret. Initially, I had read that the rooms would not be disturbed by the show on the ground floor. That is true. The night I did not go, I did not hear it and I was on the 2nd floor. Since I was in the hotel, I decided to go to the cabaret (in the hotel's lobby) for one drink (there was a discount), but I did not expect to stay long. Changed my mind once I saw the show. Fun. Decided to go again also. The hotel is convenient, inexpensive, with a safe, and with a show. Worth a visit and a return.

Superb rooms friendly staff Just finished a two week stay here at the Venue in Jomptien complex.Moved here after disappointing original hotel.Arrived and had fast and smooth check in by a smiling young man, was shown to my room and what a surprise if I could have designed the decoration it would have been the same, sort of contemporary Japanese , black and white, with nice artwork on walls.Bathroom had everything you needed including constant hot water.Being smack in the centre of jomptien boys town your only steps from a multitude of bars and restaurants , the gay section of Dongtan beach is only a five minute stroll away.If you want to go into Pattaya it's only 10 baht by local baht taxi, hundreds of them just wave.And of course must mention the Venue ladyboy show that starts around 9.45 and is great fun with an amazing troop of performers, if not a late night person don't let the thought of a show downstairs put you off, I had a few early nights and although the show was in progress I had to strain to hear anything.If your looking to book a full service hotel, one that you can go down and order or have breakfast, or while away the day on the terrace this may not be for you as essentially your booking a nice comfy room with nice staff, it does have a small pool to cool down in, but not big enough to do any major swimming.Would return as so friendly.

A fantastic place to stay I have been coming to Thailand for over 20 years and I'm on a budget that means I am not looking for the cheapest accommodation but certainly can't afford the big chains. I have been really lucky with my finds in the past, such as the now closed, Flamingo Hotel in South Pattaya. This is my first stay at the Venue and I must say it is the best I've ever stayed in. The standard of the room is 1st class, spotless clean, a nice fresh feel to the room, beautifully presented, excellent bathrooms and total value for money. The manager, Chris, is also 1st class and you can see that he takes pride in his work. I am a gay solo traveller and the location is perfect, 5 mins walk to the beach and shops, bars, restaurants etc are within an easy walk. Pattaya itself is only 10 minutes away, using the regular baht buses. Back to the Venue itself, I can't praise it enough and the attention to detail makes such a difference, everything from the welcoming towel folding, as in the pic, to the kettle and free tea/coffee available, to the FREE bottle water (which is such a plus to have in your room and needed in Thailand). The rooms are big , with good storage and a safe provided. I won't stay anywhere else now, in the Pattaya Jomtein area.